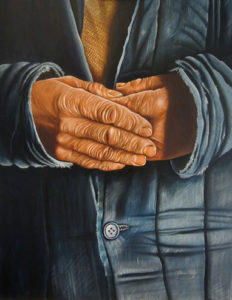 Liliana Velez is a self-taught artist who at a very young age, in her hometown of Pereira, Colombia, discovered the love for painting. While studying psychology, she decided to dedicate more time to her family, but when her daughters became independent she devoted completely to paint and nurture her talent taking painting as a full time profession.
This artist's work is versatile in essence, form and themes. On the one hand, Liliana excels with her illustrations of the elderly, children, women, and men enduring tedious labor that elude suffering, innocence, and vulnerability. Meticulous and fine details of facial expressions in human bodies and faces give her work a realistic and clean character. On the other hand, her work on still life photographs the reality of everyday objects emerging in combination with color and voluptuous forms. Ripened fruits, animals and other natural elements show the mastering of the colors, and the pronounced contrast between the light and shadows in a realistic and playful portrait of nature.
In either case, as a still life artist or as an interpreter of humankind, Liliana's art is a vibrant visual rendering of a universe in constant movement with combinations that depicts a harmonious vision of the world within the framework of nature.
Liliana Velez established in United States in 2001, and since then, she has participated in numerous solo and collective exhibitions in this country as well in Europe and she has granted the Leonardo Da Vinci's award 2009 Brindisi, Italy.